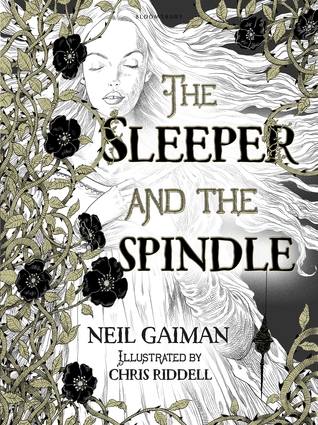 Synopsis
A thrillingly reimagined fairy tale from the truly magical combination of author Neil Gaiman and illustrator Chris Riddell – weaving together a sort-of Snow White and an almost Sleeping Beauty with a thread of dark magic, which will hold readers spellbound from start to finish.
On the eve of her wedding, a young queen sets out to rescue a princess from an enchantment. She casts aside her fine wedding clothes, takes her chain mail and her sword and follows her brave dwarf retainers into the tunnels under the mountain towards the sleeping kingdom. This queen will decide her own future – and the princess who needs rescuing is not quite what she seems. Twisting together the familiar and the new, this perfectly delicious, captivating and darkly funny tale shows its creators at the peak of their talents.
Lavishly produced, packed with glorious Chris Riddell illustrations enhanced with metallic ink, this is a spectacular and magical gift.
Review
This was my first Neil Gaiman book but I honestly wasn't really impressed by it. The writing style was great but hard to read sat some points.
I really liked the idea of the storyline, intertwining two fairytails, but I think it wasn't done too well.
The story wasn't told very detailed and you just jumped from one situation to another without really knowing who's the current narrator since you couldn't make a big difference at first.
I think it worked pretty good with letting the two stories combine even though it was unusual and mentioning the pasts of the fairytales too, but I personally couldn't connect to any characters. Probably because the book is quite short but as well that the characters don't seem like they want anybody to connect to them.
The queen seemed adventures and caring since she wants to protect her people and the dwarfs were funny too, but the other characters were odd.
And after the extreme plot and character twist at the end you have to think a whole lot about one of the main characters and this was confusing for me, a lot. And the end.. let just not talk about it..
The illustrations were what made the book better for me as they are so beautiful and underlined the story really well. And because of the book's length I was able to read it in one sitting under an hour.
So all in all it is a nice in between read which you can easily do before going to bed.
xo Anne